INTRO: This blog was posted LOOOOONG before anyone hated him. It was just after his mother passed away. So yes, very insensitive of me.
Current mood:
busy

Am I the only one who doesn't like Kanye?
Never heard the guy rap about anything but himself and how great he is. Fine, rap is usually all about bragging but something in his music just felt like he was serious about how great he thought he was.
If I am correct, then he will milk it by doing a song about his mother soon.
Sorry if its touchy although I'm sure none of my readers know anyone involved personally.
I'm sorry if I don't feel bad about someone dying while doing something out of vanity.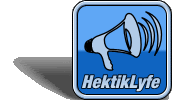 COMMENTS: